Adia Victoria dives into FishCenter Live | The rotation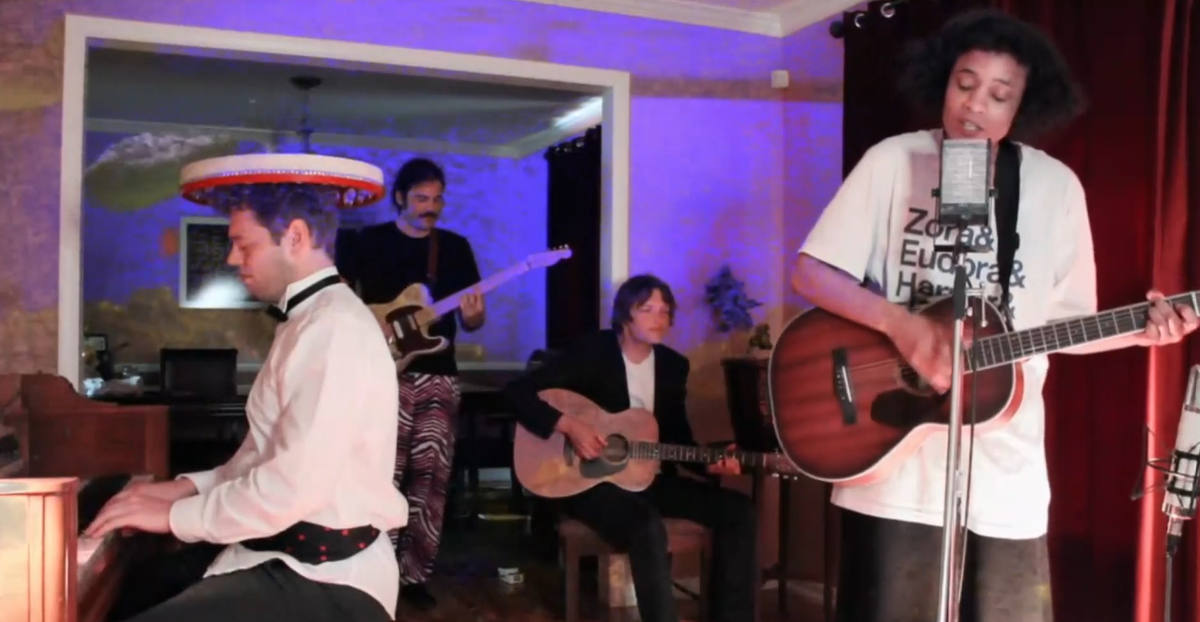 Sometimes absurdity is the perfect context to try to better understand something serious. This was the case on Wednesday afternoon, when Adia victoria appeared on Adult Swim's live call show FishCenter Live.
The approximately one hour long network program that brought you Tim and Eric Awesome Show, Great Job! features guests, usually musicians, superimposed on images of an aquarium. They perform a few songs and chat for a while with the hosts, who do not appear on the screen, as well as with the callers. There is a disarmingly awkward sort of awkwardness to the format guests typically lean in, with conversations for the most part light-hearted.
There were a few songs to kick things off on Wednesday. With the help of guitarists mason hickman and Guillaume Tyler and keyboardist Peter Eddins – all neatly separated from each other – Victoria performed a yet-unpublished song titled "Take It Easy" and "Mortimer's Blues", a metamorphosed elegy for a cat who was her companion through difficult times. Then Victoria sat down with a sketchbook and answered a few questions, on things like where to find good burgers and the scrapbooks that inspired her as a teenager. Some of the questions went further, like when the hosts asked what Victoria is missing during the pandemic. Towards the end of the stream, the hosts addressed the wave of protests that followed the murder of George Floyd by a Minnesota police officer, asking, "What does this moment look like to you?" Victoria gave detailed and thoughtful answers.
"I feel like my body is trying to figure out how to exist in this," she said. "It's a lot, and it's intense, and I'm very aware that I'm black. It's particularly traumatic for me. I have to remember, "You have a right to feel, as a black woman, trauma. And it's okay if you don't know what to do. Because I don't know what to do – you give money, you walk, you scream, you scream. The frustrating thing about being a black woman is that this system has never been my job to fix. You kind of expect everyone to behave like fucking human beings. People simply refuse, and they continue to refuse for about 400 years. It's just a huge refusal and it's exhausting.
Then she discussed the Nashville People's Budget Coalition, a group that advocates withdrawing from police services and investing in education, health care and other community services. The question took center stage at an 11am metro council meeting Tuesday evening.
"What a profound lack of confidence in your people," said Victoria, referring to the emphasis on policing in the budget proposed by Mayor John Cooper. cages. … Hammer your local reps, take a look at that budget, see where your money is going. We pay them to kill us.
The show ended with one more performance. Accompanied by Tyler nimbly improvising on the acoustic guitar, Victoria read a poem she had recently written, "A Black Woman's Abridgement of Robert Penn Warren's Segregation". The piece is sort of a remix, using lines from Warren's 1956 book, which features long, candid interviews with white Southerners that shed light on the roots of racism.
"These are the people who have to explain what this shit is," Victoria said of introducing the poem. "I don't need to explain this. I can not explain it. I do not do it.