Orpheum officially reopens with Broadway hits in the books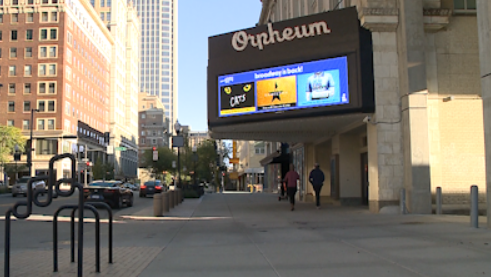 Broadway is back, as is the Orpheum Theater in Omaha. It was a long intermission for the Orpheum, but finally, they draw the curtains. All tickets for the performances can be purchased at www.ticketomaha.com. Joan Squires is President of Omaha Performing Arts (OPA), which manages the theater. Squires said the OPA was hit hard by the Broadway shutdown. "We unfortunately had to lay off half of our staff," Squires said. "We've closed and we've lost all of that revenue over the last year and a half. With new hires and quick ticket sales, the Theater is hoping for a good season. The rest of 2021 is filled with concerts and musicals. With Cats the Musical this week and Hamilton and Dear Evan Hansen on the books. "The artists are delighted to be working together again," Squires said. "They've been out of work for a long time and they can't wait to get back on stage and perform." Squires said that in order to keep the shows going, security protocols will be in place at both the Orpheum and the Holland Center. "We have a new HVAC system with bipolarization, mobile ticketing, contactless scanners and a lot of sanitation," Squires said. "So we need masks and we want the performers and the audience to feel as safe as possible."
OMAHA, Neb. –
Broadway is back, as is the Orpheum Theater in Omaha.
It was a long intermission for the Orpheum, but finally, they draw the curtains. All tickets for the performances can be purchased at www.ticketomaha.com.
Joan Squires is the President of Omaha Performing Arts (OPA), which manages the theater.
"Just to have that energy in this theater, it's kind of craving the shows to have an audience," Squires said.
Squires said the OPA was hit hard by the Broadway shutdown.
"We unfortunately had to lay off half of our staff," Squires said. "We have closed and we have lost all of that revenue over the last year and a half."
With new hires and quick ticket sales, the Theater is hoping for a good season. The rest of 2021 is filled with concerts and musicals. With Cats the Musical this week and Hamilton and Dear Evan Hansen in the books.
"The artists are delighted to be working together again," Squires said. "They've been out of work for a long time and they can't wait to get back on stage and perform."
Squires said that in order to keep the shows going, security protocols will be in place at both the Orpheum and the Holland Center.
"We have a new HVAC system with bipolarization, mobile ticketing, contactless scanners and a lot of sanitation," Squires said. "So we need masks and we want the performers and the audience to feel as safe as possible."